Dear buyer,
Finding the perfect car is sometimes as difficult as finding a needle in a haystack. You might agree. And that's exactly where the problem lies. It shouldn't be difficult for you to find what you're looking for. And especially not at
adesa.eu
. With this in mind, we have dedicated ourselves to improving our
Search page.

Square one
We literally went back to square one and redesigned the very backbone of the search option. Whether you're searching from your computer or using the mobile app, your searches will now be faster, more stable and —thanks to the new filters— more accurate.
Accuracy
We have added new filters to make your searches as exact as possible. A few of these filters relate to the auctions themselves. The end date and the type of auction have been options for quite a while. They are now joined by a filter based on the seller assignment rate.
However, the majority of the filters relate to the car. We have even included filters for the colour of the car. And you'll breathe easy knowing it's now possible to search based on CO2 emissions.
Model results

The most important new filter is undoubtedly the vehicle model. Yes! Every model we have in stock will appear as a filter option on the left of your screen. And because we like to go that little step further, you're able to search for up to three different make/model combinations at once. Nice, huh?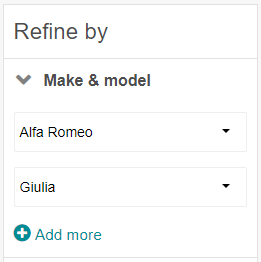 The big picture
The results for your search appear in rows with larger pictures and all the basic information you need to have a first impression. There's even an indicator to tell you how many pictures are available for a vehicle. You'll literally be able to see what you're looking for.
Sorted
You may have quite a few results to your search depending on your search criteria. So, you're able to choose the order in which your results appear. The price, the end date of the auction and the seller score are just a few examples. Alternatively, if you log in, the computer will sort the result based on your user preferences. They're based on which cars you've been looking at and bidding on. A useful timesaver.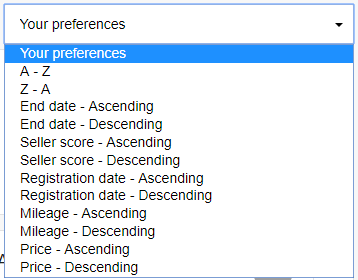 Advanced
But what if you're hoping to find a vehicle we don't currently have in stock? The vehicle make or model won't appear in the different filters on the left of the screen. I've checked: Batmobile isn't listed. But using the Advanced search option, you're able to build a search for cars we don't currently have on offer, but which, hopefully, we will one day have available.
Share and save

Running the same search every few hours becomes quite tiresome. Which is why we decided to make it possible to save your searches, even your advanced searches. A few clicks and you'll have your results.
Another important change is that every search receives its own URL. This means that if you want to share your search with a customer or colleague, you could send the URL to them. With one click they have the results on their screens.

The future

We may have the new Search page up and running, but this doesn't mean we are going to rest on our laurels. We are already developing plans to expand the search option in the mobile app. At the same time, we are making the Quick search on the home page smarter and more efficient. It will never have been easier to find exactly what you're looking for.
Questions?
Do you have any questions or feedback about the new Search page? Do you have other ideas for filters? Or a Batmobile you're interested in selling? Please make sure you email me at ginotalks@adesa.eu. I look forward to hearing from you.
Kind regards,
Gino Vleminckx
Chief Commercial Officer
ADESA Europe