Dear buyer,
Welcome back! If you've been in lockdown, watching nineteen hours of Netflix a day, and especially if you've been schooling the kids at home, we want you to have a reason to celebrate ADESA returning to full services. But what reason? We have already improved the way you look for cars, the way that vehicle information is checked and even the way bids are placed … The next logical step is to improve the way you finalise transactions. And so we want to make transactions quick, easy and hassle-free. The perfect antidote to the stresses of the past few months. This is what to expect:

You know what services are available
Every service we offer you for your vehicle is now accessible on a single page. They're even placed in a simple, logical order. Tell us where you want your vehicle sent and the page will automatically and instantly calculate the prices for all services like transport and Optimo.
Visible prices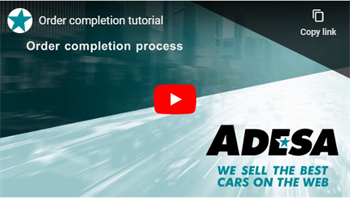 Let's say you want us to deliver your car to you. The price overview on the right side of the screen will update instantly. And the same goes for other services. We even include VAT if it's applicable, based on your location.

Estimated delivery times
The estimated delivery date will appear for every transport option you select. Remember: the dates are estimated based on historical data for the destination. They're the same dates as you see on the Car Detail page.

Flexibility
Making more than one purchase? Need a paper invoice? You might also want copies of the car registration documents too. They're now available for each and every purchase.

Online payments made easy
Certain ADESA payment options, like Optimo, require you to make a partial payment online, with the balance paid through bank transfer. We have made some updates so that now, before you head to the payment screen, you're informed of which portion of the total amount you need to pay online. Plus, the online payment process is now better integrated into the transaction flow.

Mobile friendly

After a few months of lockdown, you're probably desperate to escape from indoors. We won't hold you back. The entire transaction process, including these new updates, is available from your mobile phone or a desktop computer.

Enjoy bidding
Of course, this all helps to make bidding and buying with ADESA an enjoyable process. If you have any questions about these changes, other ADESA services or pretty much any other subject that doesn't involve teaching children from home, please feel free to contact me at GinoTalks@adesa.eu.

Kind regards,
Gino Vleminckx
Chief Commercial Officer
ADESA